Civil Contractors servicing Bordertown, Keith, Mt Gambier, Millicent, Robe, Kingston, Keith, Kaniva and Telopea Downs
Densley Earthmoving Pty Ltd is a family owned Earthmoving business based in Bordertown, in the South East of South Australia. The firm is owned and operated by brothers Ian (Jock) and Paul Densley who purchased the business from Grandparents Ed and Betty Davis in 1990.
Now with more than 20 years' experience we believe have grown into a reputable company setting a foothold in niche areas of the civil, earthmoving and agricultural industry.
Our company takes pride in every project we undertake, large or small, with a commitment to high quality service and customer satisfaction. We are committed to providing hire of modern, well maintained Plant and Equipment including landplanes and a grader, operated by experienced, trained personnel to ensure all projects are delivered on time and on budget.
The Company operates from a modern, well equipped workshop at the Bordertown Industrial Estate. They have undertaken earthmoving projects in Bordertown, Keith, Mt Gambier, Millicent, Robe, Kingston, Keith, Kaniva and Telopea Downs.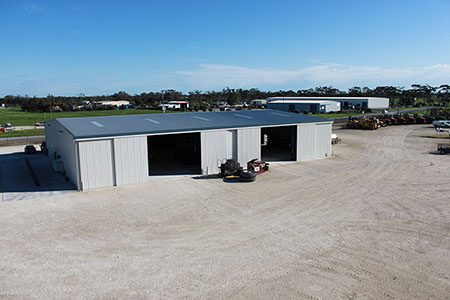 Densley Earthmoving located at the Bordertown Industrial Estate at 37 McLellan Road Bordertown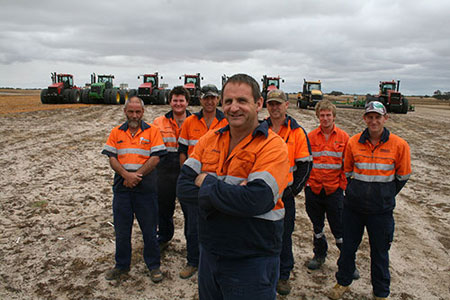 Paul Densley and the team at Densley Earthmoving
Company Objectives
Maintain or target an increase in profit each year by reducing reworks and minimizing waste in all processes.
Keep up with technology, plant and equipment changes
Target annually an improvement in staff and employees competency by training.
Have zero workplace notifiable incidents by constantly emphasizing and reviewing safe work procedures.
Have zero environmental breaches through training.
Provide a level of quality in our work, that is not less than that specified within the contract, and aims to meet the clients' expectations.
Aim to continually increase clientele base by offering professional and efficient service.
Ensure our suppliers and subcontractors operate with the same objectives in mind.
We can achieve this by having a suitably trained, competent and committed workforce who know and understand the Company objectives and operations of our Management System.
OHS&W Policy
Densley Earthmoving is committed to protecting the Health & Safety of all directors, managers, supervisors and other persons including but not limited to consultants, clients, contractors, visitors and the public whose health & safety could be placed at risk through exposure to hazards that may be generated by our operations.
View our OHS&W Policy
Environmental Policy
Densley Earthmoving is fully committed to effective management of environmental issues by establishing and maintaining environmental standards consistent with information gained from developments in technology, industry codes of practice and all relevant statutory requirement requirements.
View our Environmental Policy.
Social Responsibility
Densley Earthmoving extends its social responsibilities to the local community and where possible gives support through the following avenues:
Providing support through a range of sponsorship programs to local community groups and clubs.
Assisting in the creation and upkeep of local community infrastructure.
Helping build local businesses through the use of local products and services.
Recruiting locally, integrating unskilled and inexperienced personnel into our experienced operations personnel ensuring through the up skilling and training of local labour forces, that new career paths and opportunities are opened to these personnel.
Ensuring ALL staff at Densley Earthmoving hold a current First Aid certificate, hence being able to assist in the community if required.